You can make these flowers in different sizes, just by combining various hook sizes and and yarn weights. I made some flowers using 1.5 steel hook and cotton 8 crochet thread. Using the same pattern I made bigger flowers from sport weight yarn crocheting with 2.5mm/US C hook.
This pattern uses US crochet terms and these abbreviations:
ch – chain
sc – single crochet
ML – magic loop/circle/ring
dc – double crochet
dc2inc – double crochet increase
dc3inc – three double crochets in one stitch
slst – slipstitch
THE TINY ROSE

1. Start by chaining 25, this will give you 8 petals. If you want more petals, add 3 more chains for each petal.
2. In 4th chain from hook dc2inc (3 chains you skipped stand for 1 dc), ch1. Continue by *skipping 2 chains and than making dc3inc and ch1 in third chain*. Repeat *-* until you reach the last chain.
3. Turn your work. You have ch1 from previous row. In every dc from previous row do dc2inc, slst on the chain connecting them, ch1 and repeat until you reach the 3ch that stand for the first dc from row 2. Slst in the top chain of 3ch and fasten off.
THE TINY BASIC FLOWER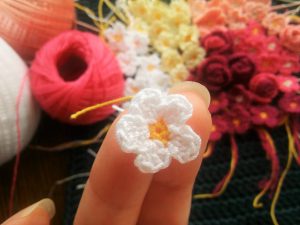 sc5 in ML (for 5 petals) and slst in first sc.
Join a new yarn, ch2 and dc3inc in the same stitch where you joined a new yarn. In next four stitches do (slst, ch2, dc3inc). Slst in the last stitch and fasten off.
If you would like to make this flower sheep, click HERE for the instructions. 🙂

This pattern is copyright of Barbara Peček / TheMagicLoop.com .  Please do not claim this pattern as your own.  If you wish to share this pattern, you may link to this pattern but please do not reprint it on your site.  Do not sell this pattern or parts of this pattern. You may sell finished items made from this pattern, but please clearly credit the design to me and provide a link to my blog www.themagicloop.com.