If you beginner knitter you'll love this scarf pattern as it uses knit stitch only! Yet, it looks like knitted lace. I used cobweb weight yarn, three strands held together, which makes this scarf really lightweight, but you can easily adapt this pattern for thicker yarn to make your scarf warmer. Just use the smallest size needles your yarn calls for for first three rows and at least two times larger needles for 4th row. For example – Worsted weight yarn and needle sizes 5mm (US 8) and 10mm (US 15).
You can hook this scarf pattern on Ravelry by clicking here or Pin it for latter here!
Materials:
3.25mm (US 3) straight or circular needles
9mm (US 13) straight or circular needles
any yarn asking for a 3mm (US 2) size needles sport or baby weight, I used mohair cobweb weight yarn, three strands held together, 100 grams.
scissors
Skills required:
basic knit stitch
casting on and off
Gauge:
20 stitches and 10 rows = 10 cm in knit stitch for 8mm (US 11) size needles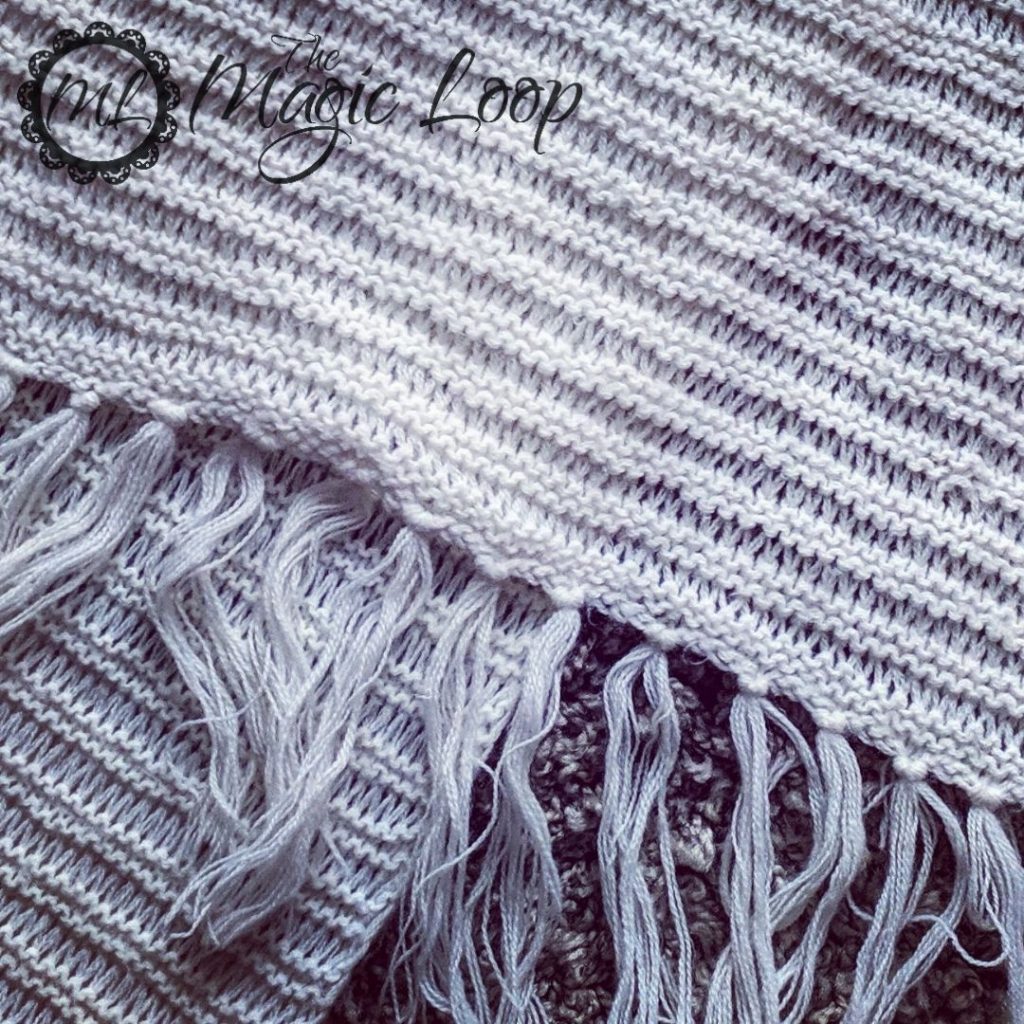 Let's start!
Start by casting on 70 stitches (you can cast more or less stitches depending on how wide you'd like your scarf to be) on 3,25mm (US 3) size needles.
Do 3 knit rows, take your 8mm (US 11) size needles and do one more knit row. Tip: Keep your larger stitches loose and smaller ones tighter for better effect.
Repeat these 4 rows until you get to your desired length. Do 2 more knit rows on smaller needles and cast off in knit.
You can also add some tassels on the ends off the scarf.
That's it! Your Lightsome Scarf is done!
Well that was easy, wasn't it?
If you have any questions or comments, feel free to contact me in comments section of this post, on my Facebook page, or by email [email protected]. Also, if you make Lightsome Scarf, send me some pictures, I'll publish them on my Facebook page. You can tag me on Instagram @themagicloop.
This pattern is copyright of Barbara Peček / TheMagicLoop.com . Please do not claim this pattern as your own. If you wish to share this pattern, you may link to this pattern but please do not reprint it on your site. Do not sell this pattern or parts of this pattern. You may sell finished items made from this pattern, but please clearly credit the design to me and provide a link to my website www.themagicloop.com.