Find this free crochet pattern on Ravelry here.
This crochet shirt is ideal for beginners as you need to know just the simple crochet techniques in order to make one yourself:
sc – single crochet
dc – double crochet
ch – chain
dc2inc – two double crochets in one stitch (double crochet increase)
dc2tog – double crochet two stitches together (double crochet decrease)
What you need for blouse size M(38)?
Crochet hook 5mm (US H)
cca. 700m~765yards cotton yarn (mine is 100% cotton, worsted weight 9ply)
Scissors
Optional: Tapestry needle (If you want sew two sides of blouse rather than crochet them together once they are finished.)
Optional: One of your blouses to help you make measurements.
If you want to make blouse in different size, you can simply add or remove rows or stitches. This pattern will show you where to make those changes, look for this sign <>. Both sides are made separately and than crocheted or sewn together. Both can be identical, or you can add one or few extra rows on the back side to make it longer. So, let's strat!
Start by chaining 83 for size M(make more or less depending on your size).
1. In 4th ch from hook dc1, dc in all remaining chains, ch3 and turn.  (80)
2.- 5. dc 80, ch3, turn.                                                                          (80)  <>
Now is the time to start decreasing (for waistline) if you are making size M, for larger size add some extra rows.
6. dc2tog, dc 76, dc2tog, ch3, turn
7. dc76, ch3, turn
Repeat rows 6. and 7. six more times. You will end up with 14 stitches less than you started with. <>
18.-20. dc66, ch3, turn (66) <>
Now is time to increase a little.
21. dc2inc, dc64, dc2inc, ch3, turn  (68)
22. dc68, ch3, turn (68)
23. dc2inc, dc66, dc2inc, ch3, turn  (70)
24. – 32. dc70   (70) <>
Cut the yarn or take the new color. My sleeves are 10 stitches long, so I chained 10. Chain more or less stitches for different sleeve sizes.
33. ch 10, connect yarn to your work by dc in all top stitches(70), ch13, turn                     (93)
34. In 4th ch from hook dc1, dc9 more on the chain, dc70, dc10 on the chain, ch3, turn   (90)
35. – 40. dc90, ch3, turn <>
Now we'll start making net by crocheting Diamond Mesh Stitch.
41. dc13, *ch5, skip 3 stitches, sc in 4th* repeat *-* until you have 16 stitches left, than ch5, skip3 and dc in 4th. dc12, ch3, turn.
42. dc13, ch3, sc on 5ch space from row 43., *ch5, sc on 5ch space*, repeat *-* until last 5ch spce, ch3, dc13, ch3, turn.
Repeat rows 41. and 42. three more times. <>
49. sc13, sc3 in in 3 ch space, *sc4 in 5ch space* repeat trough all 5ch spaces, sc3in 3ch space, sc13.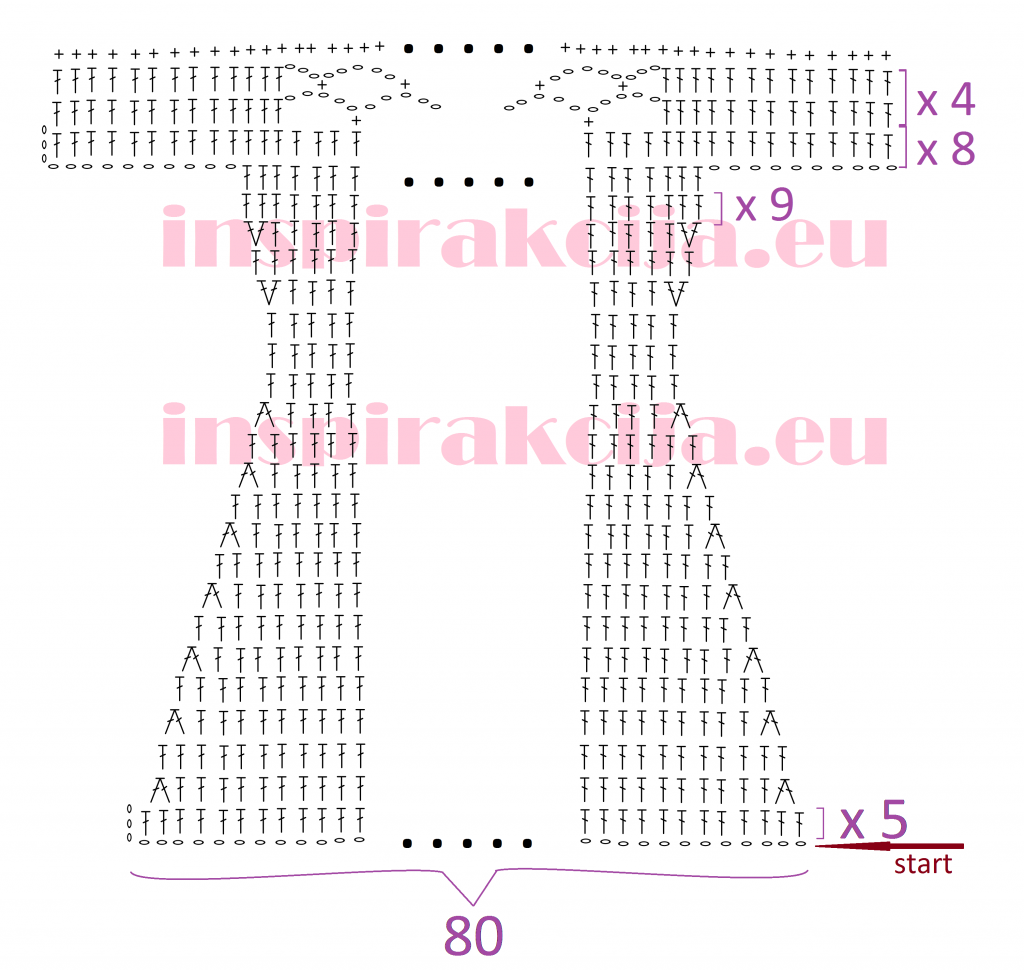 If you have any questions or comments, feel free to contact me in comments section of this post, on my Facebook page, or by e-mail [email protected]. Also, if you make this blouse, send me some pictures, I'll publish them on my social media pages.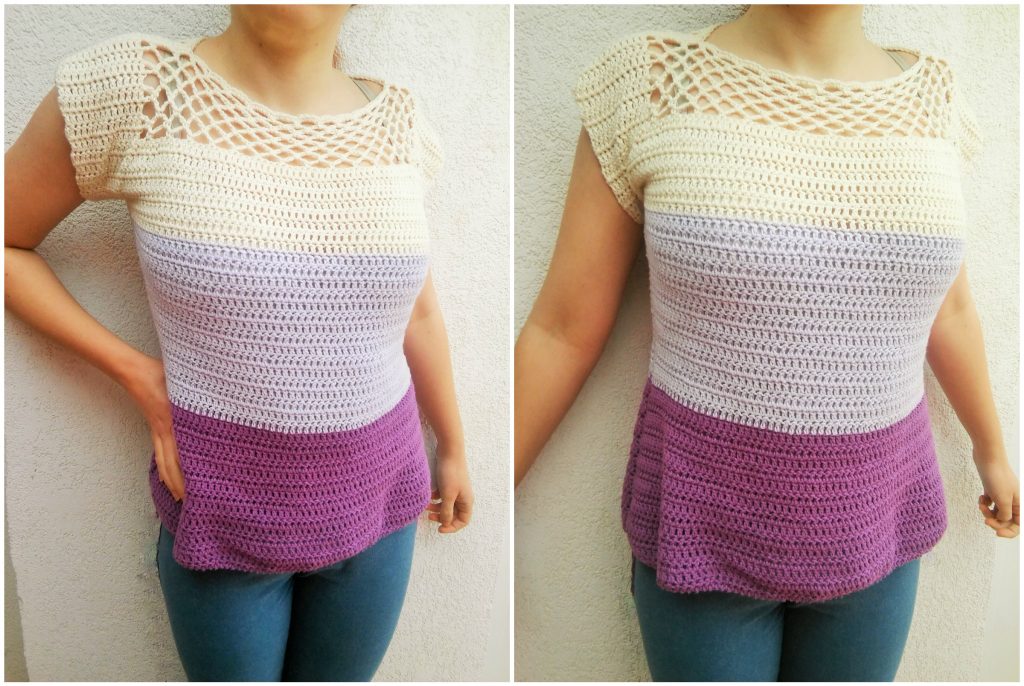 This pattern is copyright of Barbara Peček / TheMagicLoop.com .  Please do not claim this pattern as your own.  If you wish to share this pattern, you may link to this pattern but please do not reprint it on your site.  Do not sell this pattern or parts of this pattern. You may sell finished items made from this pattern, but please clearly credit the design to me and provide a link to my blog www.themagicloop.com.