Hook this crochet Strawberry Heart pattern on Ravelry here.
Simple crochet pattern for decorative strawberry hearts perfect for Valentines Day gift. You can make one in less than an hour using just a little bit of yarn. Toy eyes are optional.
This pattern uses US terminology and these abbreviations:
sc – single crochet
ch – chain
slst – slip stitch
hdc – half double crochet
sc2inc – single crochet increase, two single crochet stitches in one stitch
sc3inc – three single crochet stitches in one stitch
sc2dec – single crochet decrease, single crochet 2 stitches together
sc3dec – single crochet 3 stitches together by making single crochet decrease in 1st and 3rd stitch, skipping the middle one (resulting with one stitch)
ML – magic loop/circle/ring

What you need:
crochet hook 3.5mm(US E)
DK yarn (11wpi) or Light Worsted (I used Red Heart Lisa)
toy stuffing
tapestry needle
optional: safety eyes 8mm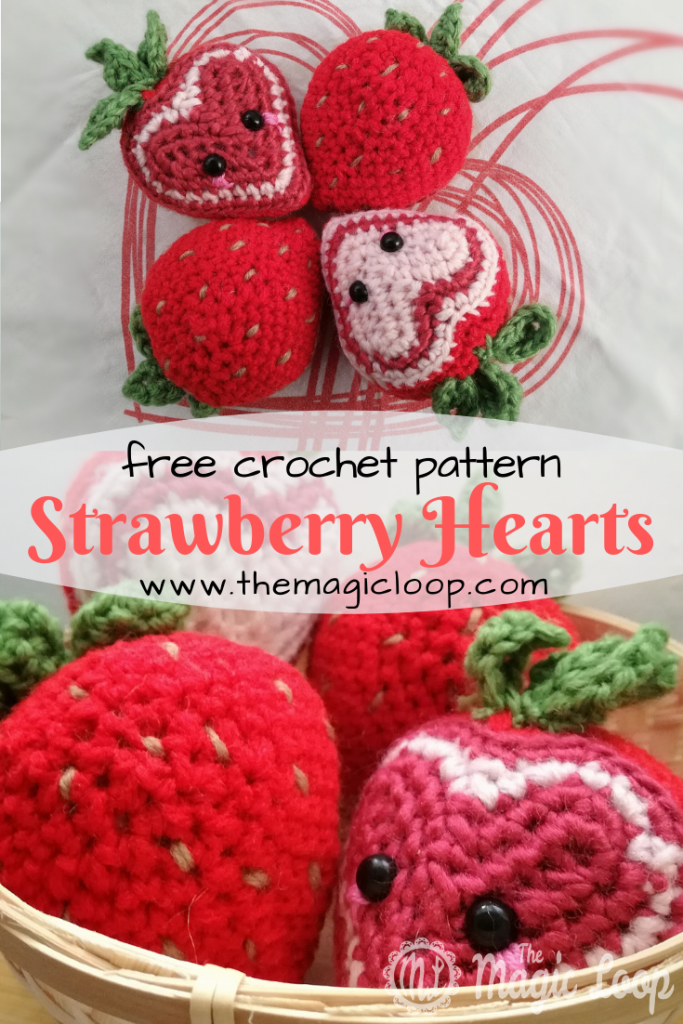 Let's start!
ch12 – work around the chain starting from 2nd chain from hook.
sc2inc, sc3, sc3dec, sc3, sc3inc(in last chain), –continue around the chain- sc4, sc3inc, sc4, sc1 in 1st stitch where you did the first sc2inc (24)
sc2inc x 2, sc2, sc3dec, sc2, sc2inc x 3, sc5, sc3inc, sc5, sc2inc (30)
sc, sc2inc, sc, sc2inc, sc, sc3dec, sc, sc2inc, sc, sc2inc, sc2, sc2inc, sc6, sc3inc, sc6, sc2inc, sc (36)
sc, sc2inc, sc2, sc2inc, sc, sc3dec, sc, sc2inc, sc2, sc2inc, sc2, sc2inc, sc8, sc3inc, sc8, sc2inc, sc (42)
use main color for the strawberry and work (just this round) in the back loop – sc42 around
sc7, sc3dec, sc18, sc3dec, sc11 (38)
sc25, sc3dec, sc10 (36)
sc24, sc3dec, sc9 (34)
sc23, sc3dec, sc8 (32)
sc22, sc3dec, sc7 (30)
(sc3, sc2dec) x 6 (24)
(sc2, sc2dec) x 6 (18) – put in stuffng.
(sc, sc2dec) x 6 (12)
sc2dec x 6 (6) – slst, fasten off and leave a tail for closing the hole.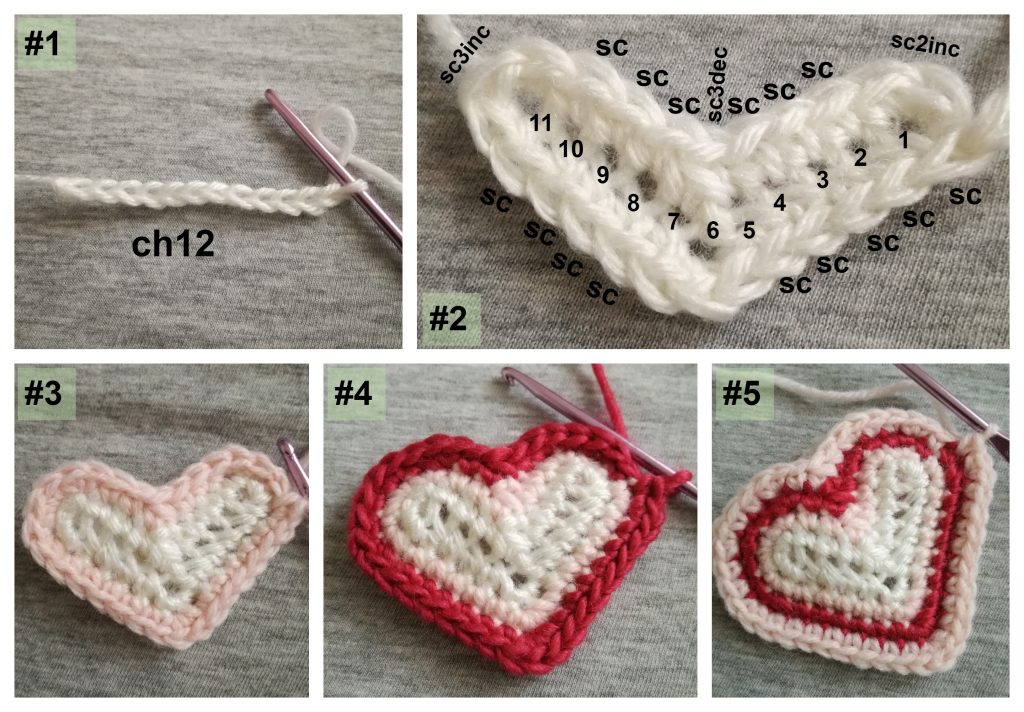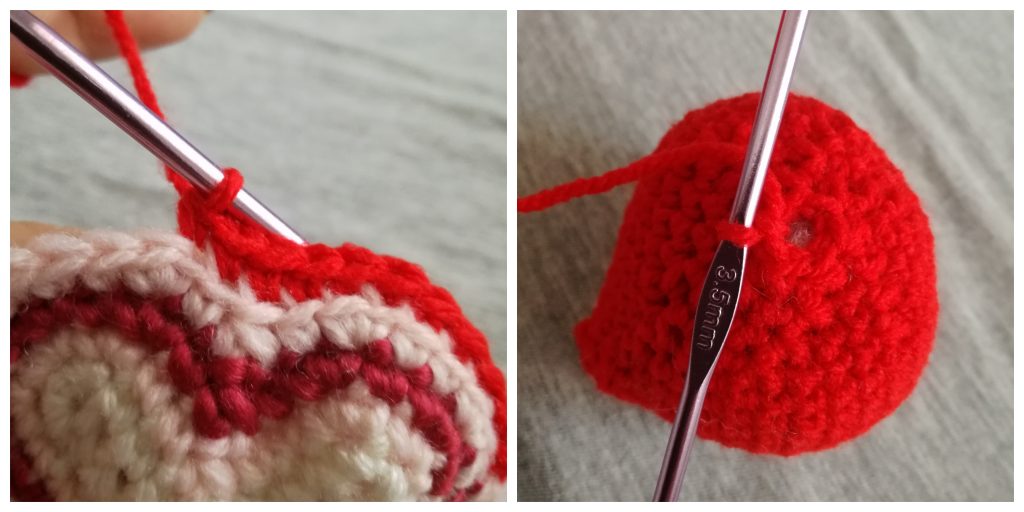 The Leaves
ch5 – work in oval shape starting with 2nd chain from hook.
sc, hdc2, [(sc, ch2, slst in 2nd chain from hook, sc)in last chain], continue around the foundation chain hdc2, [(sc, slst)in the same chain you did the first sc stitch] – fasten off, leave a tail for attaching the leaf to the strawberry.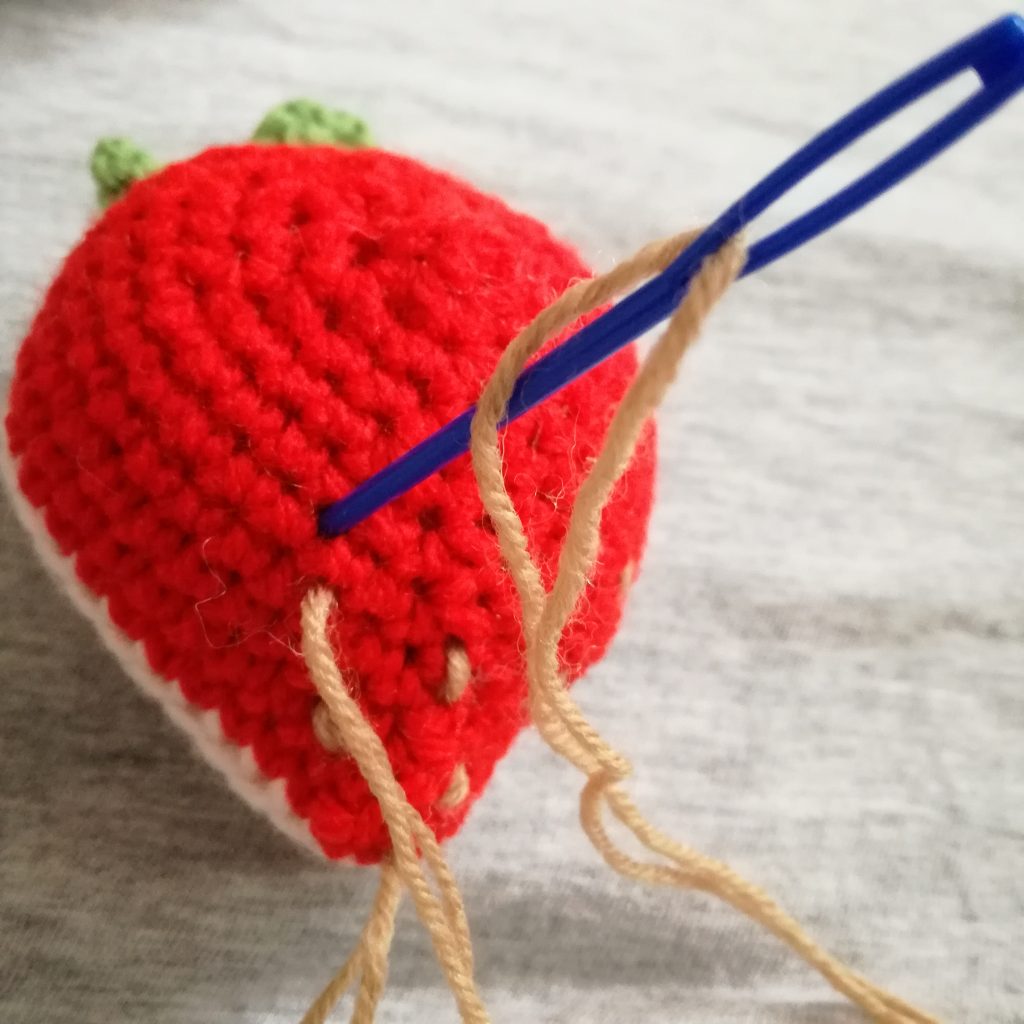 Strawberry seeds
Use tapestry needle to embroider seeds. I used double string of sock weight yarn but you can also use a single string of DK or light worsted yarn in light brawn color. Seeds are also optional.
That's it!
If you have any questions or comments, feel free to contact me in comments section of this post, on my Facebook page, or by email [email protected]. Also, if you make Strawberry Hearts, send me some pictures, I'll publish them on my Facebook page. You can tag me on Instagram @barbarapecek.
You can support me by sharing this post or by buying my other patterns on Etsy or Ravelry.

This pattern is copyright of Barbara Peček / TheMagicLoop.com . Please do not claim this pattern as your own. If you wish to share this pattern, you may link to this pattern but please do not reprint it on your site. Do not sell this pattern or parts of this pattern. You may sell finished items made from this pattern, but please clearly credit the design to me and provide a link to my website www.themagicloop.com.