Hook Bunny Ears pattern on Ravelry here.
Bunny Ears pattern is really simple and beginner friendly as it uses basic crochet stitches. There is no wire so it's important to keep your gauge tight. If you have some leftover yarn and 45 minutes of free time, let's make some bunny ears. 🙂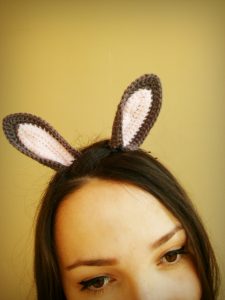 What you need:
3,5mm (US E) hook
worsted weight yarn in contrasting colors
4 bobby pins
This pattern uses US terminology and these abbreviations:
sc – single crochet
ch – chain
sc3inc – three single crochets in one stitch (single crochet increase)
slst – slip stitch
Let's start!
Make four parts, two of each color. Start with the inner ear color.
ch14
sc12 down the chain (starting in 2nd chain from the hook), sc3inc in last chain (Don't turn your work but keep crocheting on the other side of the foundation chain.), sc12, ch1 and turn your work so the back side is facing you.(27)
sc13, sc3inc in top stitch (middle stitch of sc3inc from row 2), sc 13, ch1 and turn                                  (29)
sc14, sc3inc in top stitch, sc14                                                                                                                               (31)
If using inner ear color, fasten off. If using outer ear color, don't fasten off.
Now, take an inside and an outside part, put them together back by back, and work row 5 trough both parts together.

5. ch, sc15, sc3inc in top stitch, sc15, ch and turn                        (33)
6. sc16, sc3inc in top stitch, sc16, ch and turn                              (35)
7. sc17, sc3inc in top stitch, sc17                                                      (36)
Fasten off and weave in the ends.
That's it! To make longer ears, simply add more chains to your foundation chain. To make them wider, continue from the row 7 adding one extra sc on each side of the ear. Pretty simple, right? 🙂
Now, instructions on how to attach the ears to your head using 4 bobby pins:

If you have any questions or comments, feel free to contact me in comments section of this post, on my Facebook page, or by e-mail [email protected]. Also, if you make Bunny Ears, send me some pictures, I'll publish them on my Facebook page. You can tag me on Instagram @barbarapecek.
You can support me by sharing this post or by buying my other patterns on Etsy or Ravelry. 🙂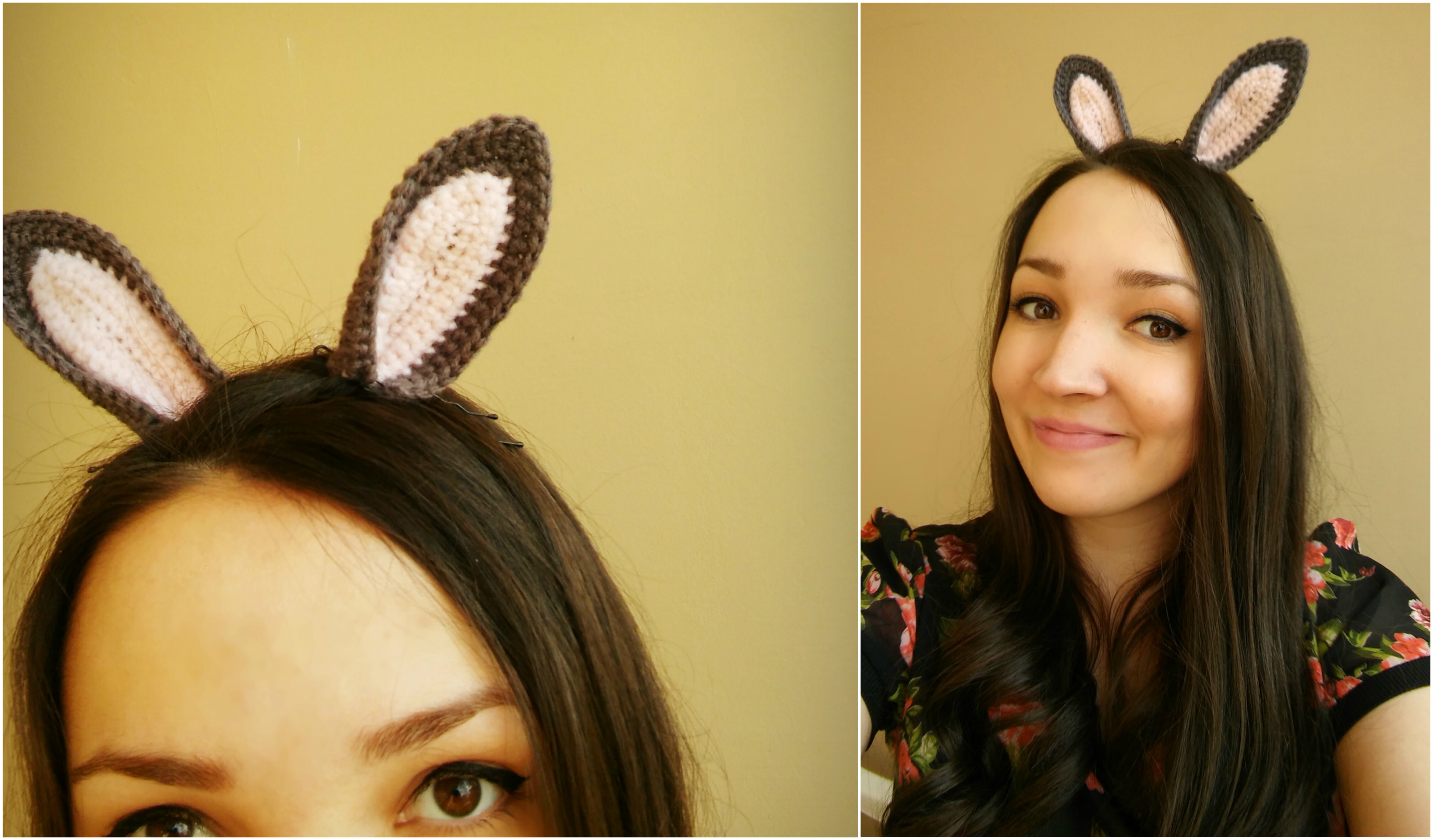 This pattern is copyright of Barbara Peček / TheMagicLoop.com .  Please do not claim this pattern as your own.  If you wish to share this pattern, you may link to this pattern but please do not reprint it on your site.  Do not sell this pattern or parts of this pattern. You may sell finished items made from this pattern, but please clearly credit the design to me and provide a link to my blog www.themagicloop.com.